At least two dead as tornadoes tear through US Midwest
Comments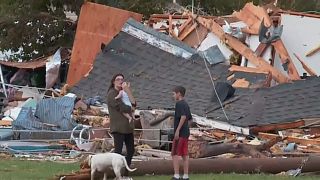 Storms and tornadoes have caused widespread damage in the American Midwest from the Plains of Texas in the south to the Great Lakes in the north.
In Wisconsin dozens of mobile homes were scattered after a tornado slammed into a trailer park in Barron County. One person was confirmed dead and two dozen injured.
Throughout the night rescuers searched for survivors and victims, as the local sheriff said he had been told there were walls on top of people.
"I would describe it as total destruction. There's a whole row where there should be trailers but there's nothing but debris. And so I would say there was probably six to eight trailers in a row but there's nothing there but debris," said the sheriff for Barron County, Chris Fitzgerald.
At least 20 people injured after apparent tornado strikes Chetek, Wisconsin, sheriff says – KSTP</a> <a href="https://t.co/ynl09flCcx">https://t.co/ynl09flCcx</a> <a href="https://t.co/QyROfWymGM">pic.twitter.com/QyROfWymGM</a></p>— BuzzFeed Storm (BuzzFeedStorm) May 17, 2017
Just outside the state capital in Oklahoma another tornado hit a housing estate in Elk City, which bore the brunt of the damage.
One person in a car was killed, according to local media. Another 10 were reportedly injured and dozens of homes damaged or destroyed.
Forecasters said more strong winds and hail were expected throughout the region.
NEW: Storm damage via Elk City Fire:

1 fatality

10 injuries

2 taken by ambulance

100 structures damaged, 50+ destroyed NEWS9</a> <a href="https://t.co/VWb347Vt0u">pic.twitter.com/VWb347Vt0u</a></p>— Justin Dougherty (DoughertyJC) May 17, 2017
Major Damage, Injuries Reported In Elk City – https://t.co/Obdy26mo3WKWTVhttps://t.co/HZLG41jh4Qhttps://t.co/mFIkmLz7PHpic.twitter.com/mkmib9RN38

— FilAm

OKC

(@FilamOkc) May 17, 2017