Political crisis in Venezuela claims two more lives
Comments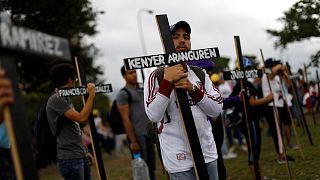 Two people have been killed on the 45th day of protest against the government of President Nicolas Maduro
The two men Luis Alvarez, 18, and Diego Hernandez, 33 were killed as demonstrators clashed with security forces in the volatile Tachira state close to the border with Colombia.
Another day another protest, with thousands out on peaceful standstill in #Caracas (and everywhere in #Venezuela).Rains in #AutopistaFajardopic.twitter.com/SPwh3rkGan

— digestvenezuela (@DigestVenezuela) May 15, 2017
The nationwide protests show no sign of abating with as many as 41 fatalities reported and hundreds injured.
The Masks in Venezuela and the Pathos of Protest Art https://t.co/l0HEFkx7jXpic.twitter.com/Qe9JCdgM8v

— Marianne Dahlberg (@MarDahlberg) May 13, 2017
In the central state of Carabobo authorities claim three policeman had been injured, one of them critically.
Tens of thousands of women wearing white flooded Venezuela's streets in protest over the weekend. https://t.co/RvkZZEeHXwpic.twitter.com/SrmiHIgOva

— Global Citizen (@GlblCtzn) May 14, 2017
The country is suffering rampant inflation, a spiraling economy and shortages of food and medicine.