Ivory Coast mutineers reject deal to end revolt
Comments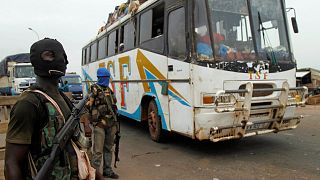 Mutinous soldiers in Ivory Coast have rejected the terms of a deal to end their revolt over a pay dispute.
All we want is what we are owed.
Confusion reigned when just minutes after the country's defence minister announced on state-owned television that an agreement had been reached, two spokesmen for the rebels said there was no accord.
They told Reuters that the latest government offer had been rejected and that they wanted more money to end the mutiny.
Spokesman Sergent Seydou Kone said: "They proposed five million CFA francs (each) to be paid tomorrow. But we want seven million to be paid in one payment and immediately."
The soldiers 8,400, who began their uprising on Friday over what they say are unpaid bonuses promised to them in January, have blocked off the country's second-largest city, Bouaké.
Mutinying soldiers stand guard at a check point at the entrance to Bouake, Ivory Coast pic.twitter.com/yvRjOZ1hak

— Russell Boyce (@Cropperboyce) May 15, 2017
On Monday, in defiance of government orders to lay down their weapons, the soldiers opened fire near the presidential palace in Abidjan and in areas vital to the country's struggling cocoa industry.
Gunshots ring out in #IvoryCoast cities of #Abidjan and #Bouake as ex-rebel soldiers demand a pay hike pic.twitter.com/JtB8Q4zCtI#Africa

— Live From Mogadishu (@Daudoo) May 15, 2017
Many of the mutineers helped President Alassane Ouattara take power in 2011, bringing to an end the country's decade-long civil war.
Now they are demanding compensation.
In January, following another mutiny, the government promised bonus payments to the soldiers.
They received 5 million CFA frances (7,500 euros) each to end the revolt in January.
However, due to the collapse in the price of cocoa, Ivory Coast's main export, further payments of 7 million CFA francs have been delayed.
One soldier said: "It's seven million or nothing. This is not a coup d'etat. Once we get the seven million in our account, we will go back into the barracks."
Another spoke of the mutineers' support for Ouattara, describing the president as "our father".
"We need him," he said. "All we want is what we are owed."
However, with a potential economic crisis on the horizon, the government is struggling to make the remaining payments.
The revolt has not garnered much public support, however, and many have taken to the streets to protest against the uprising.