Who is Edouard Philippe, France's next Prime Minister?
Comments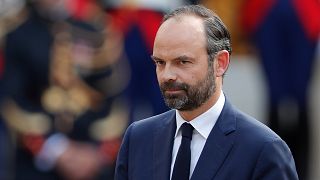 French President Emanuel Macron has named Edouard Philippe, 46, as France's new Prime Minister.
His appointment is seen as an attempt to appeal to France's centre-right political base, gather parliamentary support, weaken opponents and consolidate Macron's nascent political movement within the halls of government.
Philippe is not a member of Macron's 'Republique en Marche' party, but the two men have similar backgrounds. Both, for instance, have worked in the private sector.
For most of his political life, Philippe has been loyal to the centre-right. In 2002, and at the invitation of former PM Alain Juppe, Philippe helps form the UMP party, the predecessor of Les Republicains.
For two years until 2004, Philippe was a top UMP party official and he would later join Juppe in the Ministry of Ecology as his special advisor.
Philippe was also the public affairs director of Areva before returning to politics and representing the Seine-Maritime local council in 2008.
Two years later, he is elected UMP mayor of the port city of Le Havre. By 2012, he becomes a MP representing the Seine-Maritime.
Last year, Philippe became the spokesperson for Juppe during his race to win the centre-right primary.
But Philippe dropped his support from the Les Republicains campaign when then-candidate Fillon was implicated in an investigation into allegedly giving his wife "fake jobs".
As an MP in 2013 Philippe abstained on a vote to legalise same-sex marriage. He was one of four other conservative voters who did not explicitly support the measure.
Similarly to Macron, who thrust himself at the helm of France's politics without ever having previously held elected office, Philippe enters the role of Prime Minister having never previously held a ministerial position.
He remains a relative newcomer in national politics and is relatively unknown to much of the French public. But what he represents for Macron is one of the eldest political figures of France's centre-right.
Philippe embodies a conservative ideology which could be compatible with Macron's centrist and liberal-minded reformist vision. He could play an important role in swaying Les Republicains to align themselves with the new President.
But Macron's choice is equally perplexing as it could be politically sound. During the election campaign, Philippe wrote a weekly column in the newspaper Liberation, in which he had choice words to describe the then-candidate Macron.
In a January 2017 piece, Philippe calls Macron someone who "adheres to causal populism", "who assumes nothing but promises everything, with the ardour of a juvenile conqueror and the cynicism of an old truck driver."
In that same editorial, he compared the then-candidate to Naevius Sutorius Macro (Macron), a Roman prefect who gained the favour of Emperors Tiberius and Caligula, only to have Tiberius assassinated.
In another column the following month Philippe ironically likens Macron to Jesus, he "walks on water at the moment. He's curing the blind, he's giving bread, he's spreading the good word," Philippe wrote. "To paralysed France he orders 'Get up and onward'". "All of this without a real programme nor a real team. It suffices to believe in him. To have faith."
But as it became clear Macron was to face off against far-right Marine Le Pen, Philippe changed his tune. On April 26 Philippe launched an appeal among his camp to support Macron "because his victory is not assured".
A clash therefore is perhaps not unfeasible and the job of unifying the country's conservatives may be harder than first imagined.
Francois Baroin, the leader of Les Republicains, disavowed Philippe on Tuesday for joining Macron's government and party secretary-general Bernard Accoyer asked: "Will this new prime minister support the president's 'En Marche' candidates… or candidates of his political family?".
Outside of politics, Philippe is understood to be an enthusiastic boxer, and has co-authored political fiction novels. He has been married for 12 years, and has 3 children with his wife.