Mafia clan ran migrant centre for ten years, say Italian police
Comments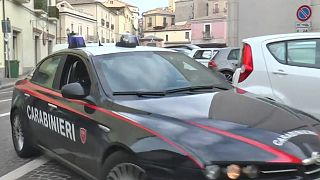 Italian police say they have made 68 arrests and dismantled a leading mafia clan that ran a leading reception centre for migrants for ten years, creaming off state funds.
Those held after early morning raids are said to belong to the Arena clan of the 'Ndrangheta, Italy's most powerful organised crime group. They reportedly include a local priest and the head of a Roman Catholic association that runs the centre in Isola Capo Rizzuto.
The operation follows a series of investigations by the media and the authorities. It's thought the mafia won contracts to supply catering and other services, siphoning off millions of euros earmarked for migrants.
Two years ago a magazine investigation alleged that managers at the centre were stealing funds meant for migrants and starving them.
The number of people there is also said to have been greatly inflated.
The authorities in the southern city of Catanzaro say those held are accused of various crimes including extortion, misappropriation of state funds and fraud.
One of Italy's largest migrant centres was mafia-run, say police https://t.co/okTuSGqBt5pic.twitter.com/BrhO7QUjMG

— The Local Italy (@TheLocalItaly) May 15, 2017