Greek economy back in recession
Comments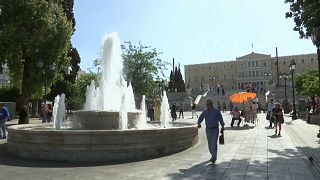 Greece's economy slipped back into recession in the first three months of the year amid delays in approving its latest bailout loan.
Gross domestic produce shrank by 0.1 percent between January and March compared to the final three months of last year when GDP had contracted by 1.2 percent. Officially a country is in recession when its economy falls for two consecutive quarters.
"The weakness seen in the fourth quarter continued but at a softer pace in the first three months," said National Bank economist Nikos Magginas.
"It's an encouraging sign given that up until February uncertainty over the successful conclusion of a bailout review remained high."
Greek Q1 GDP down by mild 0.1 QoQ, hinting at impact of drawn-out review https://t.co/ixiHrTQQip#Greece#economypic.twitter.com/68qxhu9leG

— MacroPolis (@MacroPolis_gr) 15 May 2017
Deal
Athens and its foreign creditors finally reached a deal in early May on government reforms that should lead to the release of the next installment of loan money.
Before that the Greek Finance Minister Euclid Tsakalotos was involved in six months of tense negotiations.
The leftist-led government hopes to vote through future austerity measures by May 18 in return for the bailout cash being approved by its eurozone partners on May 22.
Weaker growth
The government downwardly revised this year's growth projection to 1.8 percent from 2.7 percent previously when it unveiled its medium-term fiscal strategy on Sunday.
It expects the recovery to strengthen next year with GDP growing by 2.4 percent. Last week the EU Commission also cut its 2017 economic growth forecast for Greece to 2.1 from 2.7 percent.
Govt also forecasts #Greece's fiscal surplus to reach 2.1% of GDP in 2017, 3.9% in 2018, 4.4% in 2019, 4.8% in 2020 and 5.6% (!!!) in 2021.

— The Greek Analyst (@GreekAnalyst) 14 May 2017