Greek workers go on strike for 24 hours to oppose further austerity measures
Comments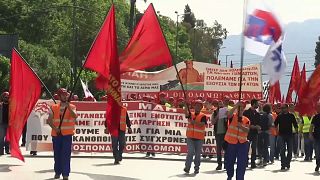 In Greece, trade union organisers and workers marched as part of a national 24-hour strike. They are opposed to further bailout measures in exchange for the continuation of international bailout loans.
The demonstrators gathered outside the parliament in Athens on Monday.
"We are incorporating (the historical May Day struggle) with our struggle against these (government) policies, we are against all the political parties who say they want this so-called bailout review concluded. This review serves as the destruction of the people and the pensioners," said Manolis Rallakis, General Secretary of a pensioners association.
Last month the Greek government agreed to cut pensions on 2019 and increase taxes a year later. Part of measures to secure financial aid to the indebted nation.
"The workers will have to rise to the occasion,"explained Theodoris Sarantopoulos. "They should not raise foreign flags that are against their interests. They should attack in an organised way to get back everything they've lost and to come out ahead and seize the opportunity to take power into their own hands."
Public transport was disrupted because of the strike. Many shops remained closed.
Another 24-hour walkout has been penciled in for May 17 against the reforms and additional austerity prescribed by Greece's landers in exchange for bailout loans. It aims to coincide with the parliamentary vote on the measures.
The country's largest public sector union has said they were "unfair and tough."