Macron - the hard work starts now
Comments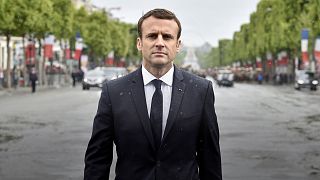 Pro-Europe centrist Emmanuel Macron is the new president of France.
The 39-year-old vowed to work to heal divisions in society.
Macron's inauguration is a first for the world's fifth largest economy. The 39-year-old newcomer was unknown to the wider public three years ago and remains outside any of the traditional political groupings.
The former investment banker is the youngest post-war French leader.
VIDEO. Marseillaise, honneurs au drapeau, revue des troupes et 21 coups de canon pour Emmanuel Macron, 25e président de la République pic.twitter.com/xdnEEAzWB7

— franceinfo (@franceinfo) 14 mai 2017
What did Macron say in his acceptance speech?
In his first words in office, he addressed the fraught and fiercely contested election campaign in which he overcame the National Front's Marine Le Pen.
Many in France feel dispossessed by the forces of globalisation and immigration and feel their French identity is being blurred by a fast-changing world.
"The French chose hope and the spirit of conquest in the election" says #macron

— Catherine Hardy (@fernojay) 14 mai 2017
"France doubts itself. I will give the French their self-confidence back. We are on the brink of a renaissance."EmmanuelMacron</a></p>— Catherine Hardy (fernojay) 14 mai 2017
"Work will be freed up, businesses supported, initiatives encouraged. Education, creation, innovation are at the heart of my work"

— Catherine Hardy (@fernojay) 14 mai 2017
"The division and fractures in our society must be overcome. I know that the French expect so much from me. Nothing will make me stop defending the higher interests of France and for working to reconcile the French," Macron declared.
"Europe protects us" says EmmanuelMacron</a> in his inauguration speech.</p>— Catherine Hardy (fernojay) 14 mai 2017
Unlike Le Pen, Macron is a committed EU integrationist. "The world and Europe need France more than ever, and a strong France which speaks out loudly for freedom and solidarity."
"I am starting work tonight. Long live the Republic, long live France" finishes EmmanuelMacron</a> at the <a href="https://twitter.com/Elysee">Elysee#passationdepouvoir

— Catherine Hardy (@fernojay) 14 mai 2017
So what is next for Macron in his new job?
He will travel to Berlin on Monday for talks with German chancellor Angela Merkel.
He is also due to name his prime minister at the start of the week. Their job will be to pilot the president's liberalising reforms aimed at reducing high unemployment and reviving the sluggish economy.
A visit to French troops in Mali planned for next Friday is being seen as a strong symbol of his commitment to pursue France's military and peacekeeping role in the Middle East and Africa.
Les premières mesures du quinquennat Macron https://t.co/DYvkgUwraO#AFPpic.twitter.com/ftLSR6gQT3

— Agence France-Presse (@afpfr) 14 mai 2017
Emmanuel Macron nommera son Premier ministre lundi https://t.co/H6lRJVkKi2pic.twitter.com/aIXtl7HsxY

—

BFMTV

(@BFMTV) 14 mai 2017
And France's parliamentary elections are a big test on the horizon?
Yes. Macron must try to win a majority for his start-up Republic on the Move (REM) party at the polls in June.
Analysts say with his lack of traditional party backing, he may struggle to get the country behind him.