Germany's SPD lose power in home state as CDU surges under Merkel
Comments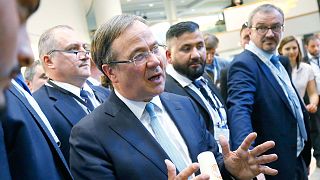 Germany's opposition SPD is nursing a stunning defeat in the state election in its North Rhine Westphalia heartland.
In power here for most of the postwar period, the SPD were decimated, losing nearly 10% of their vote as Angela Merkel's CDU soared. It is Germany's most populous state, with 18 million people. Most of them it seems have tired of the SPD, which has been under fire locally for allowing the buildup of traffic congestion, an under-performing schools sector, and high unemployment.
"Dear friends. Today is a good day for North Rhine-Westphalia. We had two goals in this election, to stop red-green and become strongest political power. We achieved both, I thank everyone for their commitment during the last days," said the CDU's winner, Armin Laschet.
The SPD had high hopes they could challenge the CDU for power in September. After this fourth state election loss since March, that now appears a distant dream.
"This is a difficult day for the Social Democrats, a difficult day for me personally, as well. I come from the state in which we took a really stinging defeat today. We've lost an important state election," said a chastened Martin Schultz, who only recently quit the European Parliament vice-presidency so he could lead the SPD in the upcoming election battle.
For former state premier Hannelaure Kraft the loss was too much, and she resigned, an unusual step but indicative of the severity of the defeat for the SPD.