South Korea orders Hyundai-Kia to recall 240,000 vehicles
Comments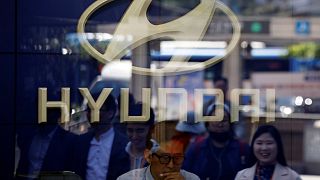 South Korea's transport ministry has ordered the compulsory recall of some 240,000 vehicles, following a tip off from a whistleblower.
Hyundai employee Kim Gwang-ho raised concerns about defects affecting a dozen car models manufactured by the company and its affiliate Kia.
The 55-year-old, who had worked at the company for over 25 years, told the press his conscience wouldn't allow him to let people travel in vehicles he knew to be faulty.
Hyundai Motor filed a lawsuit against him, which was later dropped, and he has since been reinstated to his old job.
It's the first time the ministry has imposed a compulsory vehicle recall.
Kia and Hyundai had initially refused to act on the information, saying that any pre-existing problems did not compromise safety.
Problems with vacuum pipes, fuel hoses and parking brake lights are among the issues uncovered.
Hyundai Motor later issued a statement accepting and respecting the recall, but added that there had not been any "reported injuries or accidents from the cited issues."
"Safety is always Hyundai-Kia's number one priority," it said.