Hundreds arrested in "biggest ever" US gang crackdown
Comments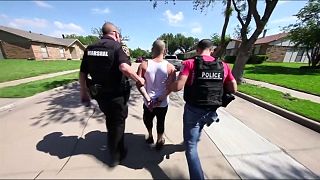 1,378 people have been arrested in the United States over the last six weeks as part of an operation to identify and prosecute gang members.
The operation, by Immigration and Customs officials, targeted gang members and associates suspected of being involved in transnational criminal activity.
This included drug trafficking, weapons smuggling, sex trafficking, murder and racketeering.
US President Donald Trump has pushed for more stringent immigration and enforcement.
He has proposed faster deportation for illegal immigrants who cannot show they have been in the country for more than two years.