Mugabe not sleeping but 'resting his eyes'
Comments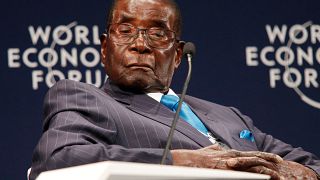 He may look like he is frequently nodding off in public but Zimbabwean President Robert Mugabe is simply suffering from eye problems caused by old age, his spokesman says.
The President cannot suffer bright lights

Mugabe's spokesman
The 93-year-old has travelled to Singapore for treatment, his second medical trip in about two months.
Pictures and videos of Mugabe apparently nodding off have gone viral on social media and opponents have mocked him as unfit for office.
President Mugabe is not sleeping at conferences, but closing his eyes to protect them, his spokesman says. https://t.co/DaMCLKW0cwpic.twitter.com/6cXeZbuQfC

— BBC Africa (@BBCAfrica) 11 mai 2017
But his spokesman, George Charamba, blamed the president's eyes.
"At 93, there is something that happens to the eyes and the President cannot suffer bright lights. If you look at his poise, he looks down, avoids direct lighting," Charamba told the state-owned Herald newspaper.
Last week at a World Economic Forum Summit in South Africa, Mugabe sat slumped in his chair, wringing his hands, as he told a panel discussion in a low murmur that his country was not a "fragile state".
Mugabe, who has run Zimbabwe since the end of British rule in 1980, now struggles to walk, with security aides forming a human shield around him in public.
Zimbabwe's Mugabe flies to Singapore for health check: report https://t.co/envJqgLYsspic.twitter.com/Rwqi3v6MKg

— FRANCE 24 (@FRANCE24) 9 mai 2017
His health is a particularly sensitive subject ahead of next year's presidential election, which he is expected to contest.
Local private media reports say Mugabe has prostate cancer, which government officials deny.
with Reuters