"Dragon-skin" ice spotted in the Antarctic
Comments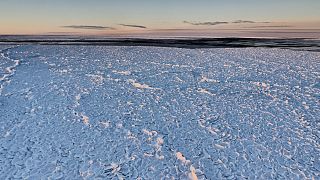 A rare ice formation known as "dragon-skin" ice has been spotted by a team of scientists in the Antarctic.
Australian researcher Dr Guy Williams of the Institute for Marine and Antarctic Studies (IMAS) and the University of Tasmania recorded pictures and videos of the rare event.
Williams described dragon-skin ice as a "very rare, bizarre" and "evidence of darker chaos in the cryospheric realm" ('Cryosphere' is the name given to the frozen water systems on Earth).
It is formed as strong "katabatic" winds from the interior of Antarctica buffet the sea even as it freezes. The rough seas create the layered and scale-like ice.