Belgian school language book for migrants causes offence
Comments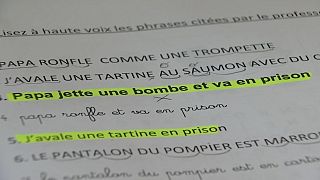 A Belgian school has changed the content of a language book used to teach French to migrants – after some of the sentences in the original version offended students and teachers alike with references to bombs and jails.
"Daddy throws a bomb and goes to prison" reads one phrase. "I'm eating a slice of bread in prison," says another.
Iraqi refugee Raad Al Azzawi and his teacher Catherine Lemaire were outraged at the content blatantly linking migrants to extremism.
The 38-year-old, who has been living in Belgium for nearly two years, has been taking private lessons at the Erasme social promotion school in the Brussels suburb of Anderlecht since last September.
"Frankly when I read it in Arabic I was very sad. In Iraq there is a lot of misery and I saw this written and frankly I was very sad," the asylum seeker said.
Al Azzawi's teacher took to social media, posting photos of the pages to denounce the book.
"At first I didn't dare translate (the sentences) to him because I thought it was very serious and I felt a bit ashamed that Belgium could offer such material," Lemaire said.
The school's director Bernard Delecluse said although the book was compiled internally three years ago it was only now that the "unfortunate sentences", which he described as a "mistake", had come to light.
In the new version they have been thrown out and replaced with new pages with no mention of bombs or prisons.
A crisis meeting is reportedly planned for Friday.