'Hundreds face military trial' amid Venezuela anti-Maduro protests
Comments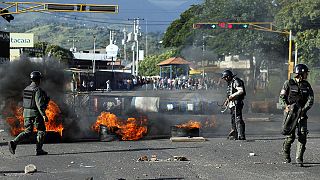 More protests are expected in Venezuela on Wednesday as the six-week wave of anger at President Maduro's government continues.
On Tuesday there were clashes in San Cristobal, capital of the western state of Tachira.
Some reports say demonstrators are planning to throw excrement at security forces, using so-called "poopootov" cocktails, in a new tactic that has sparked controversy among the opposition.
Venezuelans prepare fecal cocktails to throw at security forces, by jammastergirish</a> and <a href="https://twitter.com/ChristianVeron">ChristianVeronhttps://t.co/PfPUkBFDL7pic.twitter.com/chJDwEBY2X

— Reuters Venezuela (@ReutersVzla) May 10, 2017
Pro-government supporters took to the streets of Caracas backing calls from the president for a new special assembly he says would rewrite the constitution.
But the opposition sees it as a ploy to keep the president and his allies in power.
It has condemned the military trials of hundreds of civilians. Dozens have been jailed according to rights campaigners.
The AFP news agency quoted Jesus Suarez, the general responsible for the region including Caracas, as saying that of 780 people arrested, 251 had been referred to military tribunals for allegedly attacking soldiers or trying to foment rebellion. The Venezuelan human rights group Foro Penal claimed that 73 of them had been imprisoned.
Despite huge oil reserves Venezuela's economy is in a deep recession with hyperinflation and chronic shortages of food and medicine.
What's behind Venezuela's crippling crisis, and why it matters to the U.S. https://t.co/8XOA8eNLoApic.twitter.com/oMSytA1m7T

—

NBC

News (@NBCNews) May 6, 2017