Fourteen die in firework blast in Mexico
Comments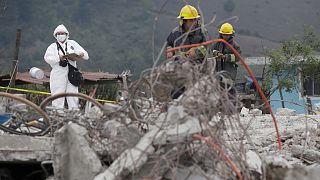 An explosion at a house where fireworks were being stored has killed at least 14 people including 11 children.
The blast was in Mexico's Puebla state and happened during preparations for a local festival next week.
It's thought a stray firework was responsible.
Nine people were killed on the spot and five more died after being taken to nearby hospitals.
Television images showed the house were the fireworks had been stored and a next door church – both were in ruins.
A senior official in the Puebla state government told a local radio station that despite state laws on storing fireworks it was difficult to prevent such accidents.
A series of massive explosions destroyed a fireworks market outside the Mexican capital in December, killing at least 35 people and injuring dozens more.