Shipwrecks spark rise in migrant death toll
Comments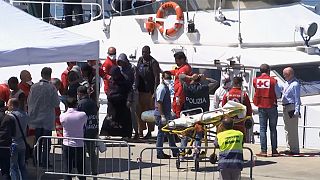 Nearly 250 migrants are missing or feared dead after two shipwrecks in the Mediterranean.
It brings the total number of people believed to have died or disappeared while trying to cross from North Africa to Italy to more than 1,300 since the beginning of the year.
So far in 2017, over 43,000 migrants and asylum seekers have used the Central Mediterranean route to reach Italy.
According to Italian Coast Guard more than 6,000 migrants have been rescued in the last four days and some 1,500 are expected to arrive on Tuesday in Sicilian ports.
It comes as Italy has announced plans to open new detention centres across the country in the next few months as part of its push to speed up deportations of illegal migrants.
Violent protests and difficulty identifying migrants has led to the closure of similar centres which critics have described as inhumane.