Nigeria's President Buhari welcomes freed Chibok schoolgirls
Comments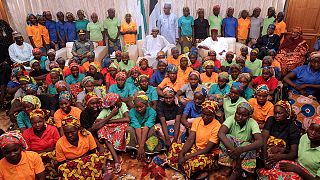 A group of 82 schoolgirls released by Boko Haram have met Nigeria's President Muhammadu Buhari.
The government secured their freedom with mediation by the International Committee of the Red Cross. They were handed over on Saturday in exchange for several Islamist militant commanders although the government has declined to reveal any further details.
The handover is a boost for President Buhari who made crushing Boko Haram an election pledge in 2015. At the meeting he promised to spare no effort to secure the release of the 100 or more girls still missing.
A spokeswoman for the Red Cross said many more people are being held in territory controlled by the militants.
"Apart from the Chibok group there are so many other children in there, thousands who are not with their families today because of the armed conflict that is raging in the northeast of Nigeria. They also need to be reunited with their families," said Aleksandra Mosimann.
Boko Haram has kidnapped thousands of other people during its eight-year insurgency aimed at creating an Islamic caliphate in north-eastern Nigeria.
The girls were from a group of 276 abducted in 2014
Their kidnapping from their school near Chibok in north east Nigeria caught global attention and the campaign #Bring back our Girls was set up and supported by celebrities and political figures around the world.
Before the latest release, about 195 of the girls were still missing. Many of them were Christian, but were encouraged to convert to Islam and to marry their kidnappers during their time in captivity.