Campaigners mark 1000 days since Chibok girls' abduction
Comments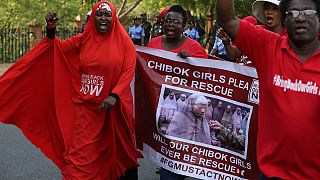 Campaigners from the "Bring Back Our Girls" group marched through the centre of Nigeria's capital city, Abuja in a protest to mark the 1,000th day since more than 200 schoolgirls were kidnapped by the Islamist sect Boko Haram.
Campaigners are angry at the apparent lack of effort being made by the Nigerian government to retrieve the girls.
Campaign leader Aisha Yesufu said the parents and families of the girls want more results:
"The (Nigerian president Muhammadu) Buhari administration's response to issues about the Chibok girls is representative of its handling of other issues – insecurity, welfare of internally displaced persons, military welfare, corruption and poor governance."
Stop deceiving Nigerians with story of Boko Haram defeat, return of Chibok girls – Fayose tells Buhari – https://t.co/XperlbOaQk

— Daily Post Nigeria (@DailyPostNGR) January 8, 2017
The abduction in April 2014 sparked international outrage and prompted global figures and celebrities to support the campaign to find the girls and bring them home, using the twitter hashtag #BringbackOurGirls.
Most of the 200 or more who were abducted from their school in Chibok in the north or Nigeria are still missing.
991 Days since Dorcas Yakubu was abducted with her fellow 219 #ChibokGirls by Boko Haram. Will Dorcas ever return home #BringBackOurGirlspic.twitter.com/ZuL4HrtGKJ

— Alasholuyi Charles K (@alashock) December 30, 2016
Nigeria's military has been carrying out a large scale offensive against Boko Haram but with no sign of the girls.
Some loan girls carrying babies have been rescued but the majority still remain under the control of their captors.
Last October 21 girls were freed but that was after a deal brokered by the Red Cross and the Swiss government with the Islamist.
Nigeria marks 1,000 days since kidnap of Chibok girls https://t.co/9c4D2Tt8QQ

—

AFP

news agency (@AFP) January 8, 2017