French voters get free baguettes
Comments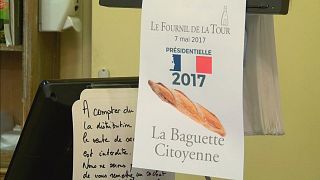 Political discussions are all part of the daily bread in France and there have been few more animated recently than the outcome of the second round of the country's presidential election.
There is indecision among the voters between candidates Emmanuel Macron and Marine Le Pen, prompting concerns about the risk of abstention.
One baker in France is trying to raise support by offering a free baguette to anyone who can prove they have voted.
"I did this for the regional elections in Calais and, hearing about the rumours in the polls of a record abstention for the second round of the presidential elections, I decided to do it again," Jean-Michel Coulon, who runs Le Fournil de la Tour bakery in Calais, told reporters.
"I wanted to try and encourage voters, in my own small way, to go and vote in the second round of the elections."
Customers showed their stamped voting cards to earn their free baguette.
Coulon says the day began slowly.
"I have the impression that there are quite a few people who are hesitating to vote or who aren't going to vote. I can only hope that people wake up during the day, but, in any case, tonight we will be presented with a president of some sort, so it is better to go and have your say, even if you are not in agreement with the candidates' programmes, it is still better to go and give your opinion."
For those who didn't vote in Calais and don't qualify for a free baguette, M. Coulon has croissants and pains au chocolat – so they can have their cake and eat it.
Love that a Calais baker is offering free baguettes to those who have voted in the #frenchelection2017

— Johnny Greenwood (@johnnyg10) 7 mai 2017