Hamas elects Ismail Haniyeh to lead political office
Comments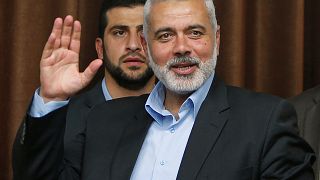 The Palestinian movement Hamas has elected Ismail Haniyeh to lead its political office. The former deputy chief will take over from Khaled Meshaal.
Meshaal is stepping down because he's served a maximum two terms in office.
There was no immediate comment from Israeli officials on the new leader.
"This is confirmation that Hamas is renewable, consultative and democratic and believing in the devolution of power. We hope the coming phase with Ismail Haniyeh would see an opening to the region," said Fawzi Barhoum, a Hamas spokesman.
Haniyeh lives in Gaza, unlike Meshaal, who is based in Qatar.
"When the political leader of Hamas is from inside Gaza he will have more knowledge about Gaza's peoples' situation," commented Ahmad Okasha, a Gaza resident.
"Residents of Mecca are more aware of its alleys. If a person is from outside Gaza, he won't talk about Gaza's ordeals and worries properly."
The election comes just as Hamas appears to soften its stance towards Israel. It has dropped its long-standing call for Israel's destruction and has severed ties with the Muslim Brotherhood in a recent policy shake-up.
Hamas is listed as a terrorist organisation by the US and European Union.