Czech Prime Minister Sobotka reneges on threat to quit over rival
Comments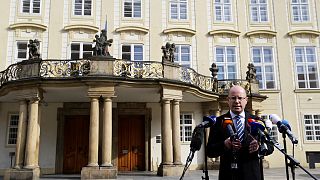 The Czech Prime Minister has made an about turn in his battle to remove his finance minister.
Bohuslav Sobotka and his Social Democrats found themselves at odds with President Milos Zeman who took the side of Andrej Babis, a billionaire from the rival ANO party who faces questions over past business practices.
Sobotka had threatened to quit along with the whole government but changed his mind when the president said he would treat the resignation as the prime minister's own.
"The Minister of Finance is not able to admit his error, he is unable to leave, although his problem, in my opinion, has gone beyond normal political behaviour," Sobotka said of Babis, who is also deputy prime minister.
Babis has had good relations with the president and both see the prime minister as an adversary.
Sobotka said the finance minister had failed to clear suspicions over financial irregularities linked to his businesses.
Babis, the most popular party leader before an election due in October, denies wrongdoing.
"The prime minister surprises us every day, he's already changing his position for the fourth time, so he looks like a joker. I do not understand it, I strongly reject his arguments… it's a targeted campaign," he said.
The president's spokesman accused the prime minister of trying to drag the country down.
The row has become a constitutional dispute over who pulls the strings in the Czech Republic's government, the president or the prime minister.
Sobotka is still demanding the removal of Babis and the case may end up in the constitutional court.