Conservatives make early gains in UK's local elections - a sign of things to come in June?
Comments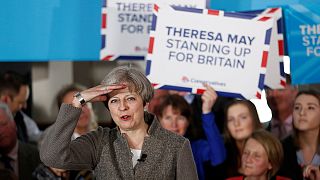 Voters in the UK have chosen their new local councillors, and PM Theresa May's Conservatives have made major gains from Labour and the Liberal Democrats.
The elections come just weeks before the UK votes in a general election on June 8, so the vote is seen as a litmus test for the main parties.
4,851 seats are being contested, across 88 local councils. All councils in Scotland and Wales are being elected, as well as 34 in England.
Six new mayors will also be elected in cities and metropolitan areas across the UK, such as Manchester and Liverpool.
The Conservatives have taken a lead in early results (see below), including the first of the six mayoral races to be announced.
Former Liberal Democrat business secretary Vince Cable said the results look "neutral" for his party, perhaps signalling that they will not re-take the ground they had hoped to.
And despite gloomy early figures for Labour, they have held on to several councils in south Wales, including the Welsh capital Cardiff. Overall though, it does look bleak for the party, with 120 seats lost already.
For May, this is a chance to show that her leadership is as "strong and stable" around the country as she's claimed. If the Conservatives can gain in council elections, they will be confident of repeating the performance at the ballot box in June.
For Labour, the party in official opposition, it is a question of how many seats they can hang on to. Leader Jeremy Corbyn has faced serious pressure, and a poll on Thursday showed that only 21 percent of voters think he would make a better prime minister than May. 29 percent said they were unsure.
The Liberal Democrats will hope to show that they are the real party of opposition with a strong showing, and elsewhere UKIP will try to hang on to the seats they won in 2013, before winning the Brexit referendum.
Keep a track of the gains and losses here: