Baby powder lawsuit: Johnson and Johnson ordered to pay 100 million
Comments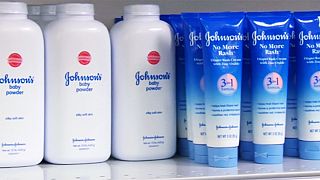 US multinational Johnson and Johnson has been ordered to pay around 100 million euros to a woman who says the firm's talcum powder caused her to develop ovarian cancer.
The verdict by a state court in St Louis, Missouri is the largest in terms of damages awarded so far.
The Virginia woman says she developed cancer after using J & J's talc based products over four decades.
The firm is facing around 2,400 pending lawsuits from customers who claim it did not adequately warn them about its talc-based products' alleged cancer risks.
Johnson and Johnson has so far faced four trials, three of which it has lost.