Violence in Venezuela as protesters condemn Maduro decree
Comments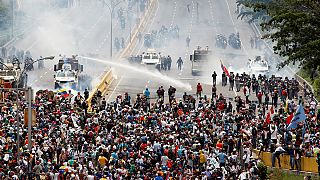 Opposition protesters have clashed again with police as the political crisis in Venezuela deepens.
It's a pantomime to push back the electoral process
According to activists at least one person died and scores were injured in a rally in the capital Caracas against the president.
The marchers had tried to reach the National Assembly where the opposition has a majority, to protest against Nicolas Maduro's plans to create an alternative "popular" congress.
"We demand that President Maduro and the vice president get their acts together. We want a democratic country where we can vote, freely, in secret and direct. The plan they are proposing is a pantomime to push back the electoral process," said one protester.
Venezuela president dancing while soldiers shoot tear gas and clash with protesters. Perfect encapsulation of surreal state TV pic.twitter.com/jIqxbUXR7T

— Hannah Dreier (@hannahdreier) May 3, 2017
President Maduro has now had his decree beginning the process to establish his new constituent assembly approved by the national election board. Voting will take place in the coming weeks.
Maduro wants at least half its members to come from his traditional power base – the poor, working classes and other civic associations. He says it will hand back power to the people and bring peace to Venezuela.
He claims he is giving Venezuelans a choice between the opposition which he calls "violent and illegal terrorism," and his "constitutional and legal" government.
#Venezuela: People to decide country's destiny – Maduro signs decree to rewrite constitution https://t.co/HpOGZ9wV4Ypic.twitter.com/53Gm3nwb1m

— info▪1440 (@i1440) May 3, 2017
The opposition has condemned the move calling it a blatant attempt to cling to power. They are seeking to hold state gubernatorial elections delayed from 2016 and bring forward the 2019 presidential vote amid a devastating economic crisis.
International reaction
Maduro's move has drawn condemnation from the United States and some Latin American countries, including regional powerhouse Brazil that labelled it a "coup."
But backing has come from regional leftist allies including Cuba. Bolivia's President Evo Morales said Venezuela had the right to "decide its future… without external intervention."
At least 33 people have been killed and hundreds injured and arrested since the anti-Maduro unrest began in early April.