Syria's armed opposition rejects Russian 'safe zones' plan
Comments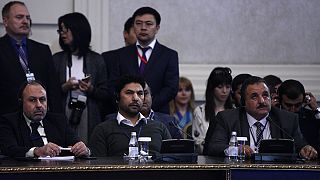 Syria's armed opposition is rejecting a Russian plan to create safe zones in the country, saying it is a threat to territorial integrity.
The memorandum, signed by Turkey – which supports rebels – and Iran – which backs President Bashar al-Assad, aims to improve the deescalation process.
But the opposition says it will not recognise Tehran as a guarantor.
"We refuse any role for Iran and militias affiliated with it. We refuse for it (Iran) to play any role as guarantor, considering it's a nation with hostilities against the Syrian people," said Osama Abu Zaid, a Syrian opposition delegation member.
The plan was not immediately published, so the details of it are unclear. But it appears the thinking behind the safe zones is that they would help widen a ceasefire, and could potentially be policed by foreign troops.
The US says it is also sceptical about Iran's involvement. It also has concerns about Damascus' track record on previous agreements.