Arguments and insults in fiery French presidential debate
Comments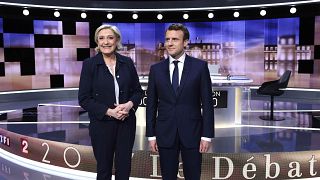 It was pure political combat as France's presidential finalists went head to head in a televised debate on Wednesday, watched by millions.
Far-right firebrand Marine Le Pen labelled her rival a "smirking banker".
Centrist Emmanuel Macron dubbed Le Pen the "high priestess of fear".
And nowhere did the pair clash more than on the subject of terrorism.
"We must immediately expel foreigners on our territory who are listed as potential threats to state security – all those foreigners with a link with Islamist fundamentalism. Out! Out! We will withdraw citizenship from all those with dual nationality," Le Pen roared.
"I know you oppose that. But you are in favour of all lax proposals and against all those that take a firm stance. And once deprived of their nationality, they will also be sent back to their countries," she said.
But Macon was equally scathing.
"That is going to scare them…those who blow themselves up…that is going to terrify them!
Deprivation of citizenship is a debate that has already taken place. The President of the Republic wanted to do it. It settles nothing," he said.
And on the single currency, it was just as ill-tempered.
"The euro is the money of bankers. But it is not the money of the people," Le Pen argued.
"It is the reason why we need to tear ourselves away from this currency."
"Who has been manipulating deep fear from the start? It is you," Macron said, taking aim at his rival sitting opposite.
"Who is playing with the fears of our fellow citizens on terrorism etc? It is you! Deep fear, the high priestess of fear, she is opposite me!"
The debate was won, according to first opinion polls, by Macron, the 39-year-old frontrunner in the election.
But in recent days, Le Pen, 48, has narrowed his lead in voter surveys and it is down to the French people to decide in Sunday's run-off – widely seen as the country's most important poll in decades.