Alanis Morissette's ex-manager jailed for stealing millions from singer
Comments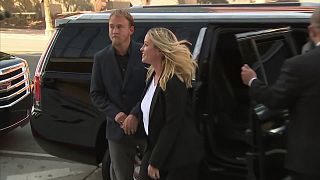 A former business manager for Alanis Morissette who stole over seven million dollars (6.4 million euros) from the Canadian singer and others has been jailed for six years.
Morissette was in court in Los Angeles to hear the sentence handed down – longer than prosecutors had asked for.
The singer said she placed her fortune in the trust of Jonathan Todd Schwartz, but he secretly siphoned off her accounts to finance his gambling addiction.
She had asked for a sentence that "sends a crystal clear message". Schwarz, who had already admitted charges that included wire fraud and filing a false tax return, had asked for a lower prison sentence plus house arrest and community service .
Outside the court his lawyer said he had turned over a new leaf.
"Well, he began a new chapter a year ago –a chapter that was based on accepting responsibility for his crimes, dealing with his victims, apologising to them, changing his life, addressing his addictions, and beginning that life anew," Nathan Hochman said.
Schwartz stole nearly five million dollars (4.6 million euros) from Morissette and two million dollars (1.83 million euros) from five unnamed clients when he worked at GSO Business Management between 2010 and 2014.
The singer said the theft was carried out "in a long, systematic, drawn-out and sinister manner" and would have bankrupted her within three years if it had carried on.
Alanis Morissette's ex-business manager sentenced to 6 years in prison https://t.co/5UoR7VJdzVpic.twitter.com/x4utpWi8LI

— Hollywood Reporter (@THR) May 4, 2017