Iran: 21 killed and dozens hurt in coal mine blast
Comments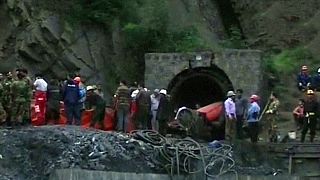 At least 21 people have died and scores more are injured after an explosion at a coal mine in northern Iran on Wednesday.
The bodies recovered were those of miners who went down the pit to try to rescue colleagues trapped by the blast near the town of Azadshahr in Golestan province, according to a local official quoted in Iranian media.
Some 70 miners have been hurt and more than 30 others are said to be still stuck underground after tunnels collapsed in the blast.
#UPDATE 21 dead trying to save workmates trapped in Iran minehttps://t.co/95MwJvzMN2@AFPpic.twitter.com/qy1Q4OldWh

— AFP Tehran (@afptehran) 3 mai 2017
The blast reportedly occurred when workers tried to jump-start a locomotive, during a change of shift.
State media says President Hassan Rouhani has sent his Minister of Labour and Welfare to the site.
Emergency teams are working against the clock, with dangerous gas hampering rescue efforts.
with Reuters