FBI chief defends Clinton email decision
Comments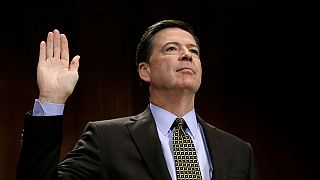 FBI Director James Comey has delivered an impassioned defence of his decision to reopen an investigation of Hillary Clinton's emails which Democrats believe cost her the presidency.
During a four-hour grilling before the Senate Judiciary Committee, Comey expressed concern over any perceived affect on the 2016 election but that concealing the discovery of new emails would have looked like a coverup
"Look this was terrible, it makes me mildly nauseous to think that we might have had some impact on the election, but honestly, it wouldn't change the decision. Concealing in my view would be catastrophic, not just to the FBI, but well beyond."
FBI Director Comey was the best thing that ever happened to Hillary Clinton in that he gave her a free pass for many bad deeds! The phony…

— Donald J. Trump (@realDonaldTrump) May 3, 2017
Comey also faced tough questions about Russia's alleged roll in tilting the election in favour of Donald Trump and was pressed on what kind of threat Russia presents.
"Well, certainly in my view the greatest threat of any nation on earth given their intention and their capability."
Democrats have criticised Comey for not revealing the Russian probe before the election as he had with the investigation into Hillary Clinton.
Comey tried to convince senators he made the right choice. He said the probe into whether Russian hacking activities and American citizens was a classified investigation in its early stages – far different from the almost completed email probe.
On Tuesday Clinton said in an interview that her election bid had been derailed in part by Comey's renewed probe into her emails, telling Congress just 11 days before the November 8 vote.
…Trump/Russia story was an excuse used by the Democrats as justification for losing the election. Perhaps Trump just ran a great campaign?

— Donald J. Trump (@realDonaldTrump) May 3, 2017