Europe's movers and shakers: 'most innovative universities' revealed
Comments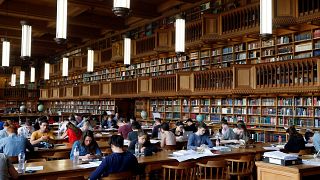 Three UK institutions have been rated among the top ten most innovative universities in Europe.
According to Reuters' second annual ranking, Imperial College London, the University of Cambridge and the University of Oxford place in second, third and tenth position respectively.
Belgium's KU Leuven topped the list of 100.
How are universities ranked?
According to Reuters, the list "identifies and ranks the educational institutions doing the most to advance science, invent new technologies, and help drive the global economy."
Compiled in partnership with Clarivate Analytics, the rankings look at the volume of influential inventions produced by universities.
For example, KU Leuven reportedly submits more patents than most other European universities. Its inventions are also frequently cited by outside researchers in their own patent applications.
Imperial College London researchers were responsible for the development of holography, the invention of fiber optics and, of course, for the discovery of penicillin.
To compile the list, Clarivate Analytics identified over 600 organisations from a variety of sectors that published the most articles in academic journals. This was whittled down to those filing more than 50 patents with the World Intellectual Property Organization between 2010 and 2015. Each candidate was evaluated and, finally, the list was reduced to only include European institutions. They were then ranked based on performance.
Did your alma mater make the #ReutersRankings list of most innovative universities in Europe? https://t.co/mVqjsL39KEpic.twitter.com/9kNuSJEN3X

— Reuters Top News (@Reuters) May 3, 2017
Business and political leaders dominate
The list's high flyers are universities from nations that currently dominate European business and politics. Germany leads the way, with 23 universities in the top 100.
The United Kingdom and France place second, each with 17 ranked institutions.
And if the list were compiled on a 'per capita' basis?
The argument could be made for a 'per capita'-based list.
Germany, France and the UK are among the most populous and richest countries in Europe. So, where would less populous countries place, if these factors were taken into account?
The Republic of Ireland would come out ahead. While it only has three universities on the current list, with a population of less than five million, it boasts more top institutions in terms of innovation per capita than any other country in the continent.
In that case, Germany, France and the UK would rank mid-table.
National economies could also be taken into account.In 2016, Germany's gross domestic product was 11 times larger than that of Ireland. Yet, it only has seven times more.
Up and down
When it comes to the biggest movers, UK institutions have had mixed results.
The University of Glasgow was a new entry to the list, in 54th place. But it was at the expense of Queen's University Belfast, which failed to rank this year.
Redbrick institution, the University of Leeds, was one of the biggest movers within the 100. It fell 17 places, to number 73.
However, as Reuters points out, "the relative ranking of any university does not provide a complete picture of whether its researchers are doing important, innovative work. […] And it's important to remember that whether a university ranks at the top or the bottom of the list it's still within the top 100 on the continent: All of these universities produce original research, create useful technology and stimulate the global economy."