Algeria: Voter apathy key challenge in parliamentary poll
Comments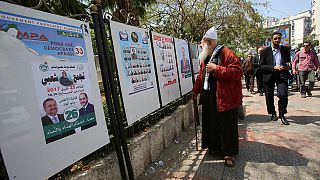 Early voting is underway in Algeria's parliamentary poll.
I know that none of them will come up with a change or anything new

Student in Algiers
Desert-dwellers have cast their ballots first but it is far from sure that their compatriots will follow in vast numbers, with voter apathy a key challenge for politicians seeking election this Thursday.
There is little suspense.
The ruling FLN party has dominated Algeria since it won independence from France in 1962.
With its coalition partners, the party is widely expected to win the election against a weak, divided opposition.
Algeria voter apathy could mar legislative election https://t.co/A4QxE1Do3Opic.twitter.com/Dq2vR2hUjF

— FRANCE 24 (@FRANCE24) 2 mai 2017
"I am not going to vote my dear friend," said Hamza, a man in the capital, Algiers.
"No candidate represents me…they fooled me when I was younger. I used to believe in promises they never kept. I won't vote."
"I won't vote, I am sure not to vote. I know that none of them will come up with a change or anything new," said Sofian, 30, a student in Algiers.
"They make a lot of promises, but they are there to make laws not to give out gifts."
"They are all the same," added Ghania, 23, another student in the capital.
"They speak, speak and speak and once they get their seats, they do nothing."
Low voter turnout expected in Algeria's legislative poll https://t.co/l7JBeKNqnmpic.twitter.com/Ys9E6pWrH9

— Al Jazeera English (@AJEnglish) 3 mai 2017
With some 70 percent of Algerians under the age of 30, President Abdelaziz Bouteflika – in power since 1999 – is the only leader many have known.
Bouteflika, 80, has rarely been seen in public since he suffered a stroke in 2013.
But a vote for FLN is a vote for the stability his supporters say he has delivered to Algeria since it emerged from a 1990s civil war.
The parliamentary election comes as Algeria attempts sensitive reforms of its vast social welfare system, price increases for subsidised fuel and spending cuts following a steep decline in global oil prices that have slashed its export earnings.
with Reuters