Ill-fated Fyre Festival slapped with multi-million-euro lawsuit
Comments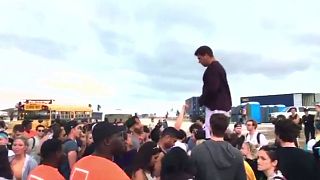 An attendee at the ill-fated Fyre music festival has slapped its organisers with a 92-million-euro (100 million USD) lawsuit.
The event, which was due to take place on an island in the Bahamas, was cancelled on the first day due to bad weather, poor infrastructure and lack of accommodation.
From someone on the ground at #FyreFestivalpic.twitter.com/20ZuzhKNzI

— FyreFestivalFraud (@FyreFraud) April 27, 2017
Apologies and refunds have been offered.
Who filed the lawsuit?
Festival-goer Daniel Jung is taking the event's organisers to court for alleged 'outrageous failure to prepare'.
#FyreFestival update, photos from the ground! pic.twitter.com/Z7fn9cKaz3

— FyreFestivalFraud (@FyreFraud) April 27, 2017
He has enlisted the help of celebrity trial lawyer Mark Geragos.
"The festival's lack of adequate food, water, shelter, and medical care created a dangerous and panicked situation among attendees – suddenly finding themselves stranded on a remote island without basic provisions – that was closer to The Hunger Games or Lord of the Flies than Coachella," the court filing stated.
It alleges the event's organisers warned musicians and celebrities not to attend, but "refused to warn attendees about the dangerous conditions awaiting them on the island."
"The Fyre Festival was nothing more than a get-rich-quick scam from the very beginning," the filing continued.
It's a popular opinion, according to posts on social media.
We have been locked indoors with no air NO FOOD and NO water #fyrefestival#fyrefest fyrefraud pic.twitter.com/wg5pZmSvnx

— Lamaan (@LamaanGallal) April 28, 2017
However, Fyre Festival's organisers insist it was not a hoax. But who were they?
Who organised Fyre Festival?
The event was the brainchild of tech entrepreneur Billy McFarland, 25, and noughties rapper Ja Rule (Jeffrey Atkins).
According to a statement on the Fyre website, they:
"Started a partnership over a mutual interest in technology, the ocean, and rap music. This unique combination of interests led them to the idea that, through their combined passions, they could create a new type of music festival and experience on a remote island."
They admitted that they "simply weren't ready for what happened next, or how big this thing would get."
However, Atkins tweeted that:
"I wanted this to be an amazing event it was NOT A SCAM as everyone is reporting I don't know how everything went so left but I'm working to make it right by making sure everyone is refunded… I truly apologize as this is NOT MY FAULT… but I'm taking responsibility I'm deeply sorry to everyone who was inconvenienced by this…"
April 28, 2017
Despite its teething problems, Fyre Festival is scheduled to go ahead in 2018. Ticket-holders from the 2017 event have been offered VIP passes and next year's festival is expected to take place on the US mainland.
What was Fyre Frestival supposed to be?
Marketed as a "once-in-a-lifetime" musical experience, the festival was launched on Instagram with a promo video featuring models Bella Hadid, Hailey Baldwin and Emily Ratajkowski.
Tickets cost from over 1,000 to over 100,000 euros. The event was supposed to take place over two weekends.