Maduro woos his core support following violent protests
Comments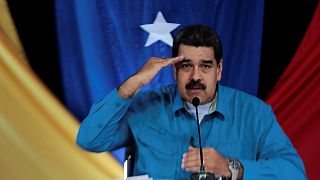 Venezuelan President Nicolas Maduro has promised to
raise minimum salaries by sixty percent and to hold long delayed state elections in the coming months.
The offers were delivered during his weekly television programme.
The Venezuelan leader reached out to his core support among the country's poor and low paid, in the face a renewed wave of opposition-led protests.
The postponed vote for governors of Venezuela's 23 states – originally slated for 2016 – is one of a litany of opposition grievances against Maduro whom foes accuse of becoming a dictator and wrecking the economy.
"I have decided to increase the minimum wage, the pensions and the labor rates of all public administration workers – doctors, nurses, soldiers, police, firefighters, teachers by 60 percent the salary," said Maduro.
On Saturday evening (April 29) a vigil was held for the 29 people killed in a month of of clashes between police and protesters over calls for Maduro's resignation.
The recent violence has even caused the Pope to intervene offering to reinstate Vatican mediation. But its an offer which opposition leader Henrique Capriles has rejected.
Capriles complained that the government was teasing the Pope when it claimed it had tried to set up a dialogue but had got nowhere … " Its a big scam on the part of the president," he said.
FernandoAmandi</a> <br>Pope is socialist he helps <a href="https://twitter.com/hashtag/Maduro?src=hash">#Maduro</a> in <a href="https://twitter.com/hashtag/Venezuela?src=hash">#Venezuela</a>, pity,shame. the Pope should pray/fight for the people not for dictators <a href="https://t.co/iFKWgfxNtY">pic.twitter.com/iFKWgfxNtY</a></p>&mdash; Seaking (seaking2016) May 1, 2017
As well as general elections, the opposition wants the release of jailed activists, permission for foreign humanitarian aid to help offset shortages of food and medicine, and autonomy for the opposition-controlled National Assembly. Both sides are planning massive marches later today (May 1), with many Venezuelans fearing more violence.