German defence minister under fire over terror suspect soldier
Comments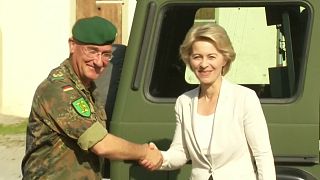 Germany's defence minister has come under fire over a scandal involving an army lieutenant who is accused of plotting a gun attack while posing as a Syrian refugee.
Known only as 'Franco A', the 28-year-old had allegedly compiled a hit list of targets, which included Left party politician, Anne Helm.
Defence Minister Ursula von der Leyen spoke out in condemnation of political, right-wing and religiously -motivated extremism and promised a quick and full investigation into the case.
Questions have been raised over how a man who reportedly speaks no Arabic was able to pass as a fruit-seller from Damascus. Franco A is also said to have expressed far-right views in a 2014 academic paper, with no resulting consequences.
Von der Leyen pointed to leadership issues within the German Army, but her critics have blamed the government, labelling her and Interior Minister Thomas de Maiziere a national 'security risk'.