Austrian suspected of war crimes in Ukraine is detained in Poland
Comments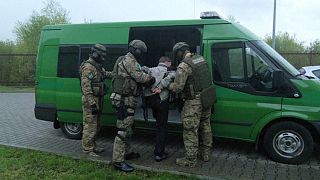 An Austrian man suspected of war crimes in the conflict between Ukrainian forces and pro-Russia separatists, has been arrested in Poland.
The 25-year-old is accused of having killed soldiers involved in fighting at Donetsk airport who had already surrendered.He's also accused of killing civilians.
He was detained at a border crossing to Ukraine on a European arrest warrant.
Russia annexed Crimea in March 2014, and fighting broke out in eastern Ukraine the following month between pro-Russian rebels and Ukrainian government forces, a conflict in which close to 10,000 people have been killed.