Turkey sacks 3,900 public officials, bans TV dating shows in latest purge wave
Comments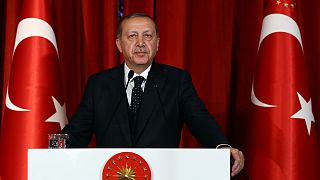 Turkey has sacked almost 4,000 people from the civil service and the military, in the second major purge since President Erdogan was granted sweeping new powers.
It appears to be the latest crackdown linked to last July's failed coup, after the government announced the officials had been fired for suspected links to 'terrorist organisations and structures presenting a threat to national security'.
In a separate decree, TV dating shows were banned. It comes after the Deputy prime minister said the shows were at odds with Turkey's faith and culture.
Earlier in the day, internet users found they couldn't access Wikipedia, after the government blocked it citing a law allowing it to ban access to websites deemed obscene or a threat to national security.
One resident said: "Thousands of internet users are facing the AK Party's bans. If this is terrorism related, you can change the context (of an article) but they prefer to block the website completely. This was done with YouTube and Twitter before and now it is Wikipedia. But they will see this is the wrong approach and I believe this will be reversed."
The move comes after Erdogan narrowly won a referendum to grant him new powers, something which opponents feared would see the country lurch towards authoritarianism.