Tornadoes kill at least five people in Texas
Comments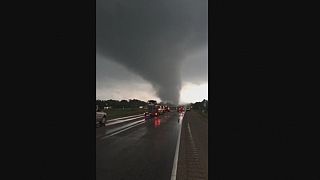 At least five people have been killed by tornadoes in Texas as heavy storms move across parts of the US.
Badly hit was Canton, about 80 kilometres east of Dallas, where some 50 injured people are being treated in hospital.
The Mayor of Canton, Lou Ann Everett, said: "We do have power lines down. We have no power.
"The tornado tore up three transmission stations. Now, out in the county, we've got a lot of houses that are damaged and flattened."
At least three tornadoes are thought to have struck.
The governor of Texas says emergency response teams have been sent to the affected areas to help in relief efforts.