Violence erupts after general strike in Brazil
Comments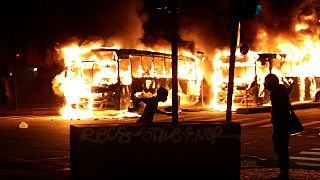 Brazil's first general strike in more than twenty years ended in violence, as protesters clashed with police in several cities.
In Rio de Janeiro, at least eight buses were torched as police launched rounds of tear gas and rubber bullets at masked demonstrators.
In Sao Paolo, the rally route led to President Michel Temer's residence.
Unions had called the strike to voice anger at Temer's attempts to push tough austerity measures through congress, including a proposed minimum age for retirement.
Earlier this week, the lower house approved a bill to weaken labour laws, by relaxing restrictions on outsourcing and temporary contracts.
Temer argues that reforms are needed to slash the budget deficit and pull the country out of its worst recession on record. Unions counter that the poor should not pay the price for the country's economic problems.
The government is also in the grip of a corruption scandal, in which many top politicians have been implicated, including several of Temer's ministers, further fuelling discontent.