Pope Francis urges unity against fanaticism
Comments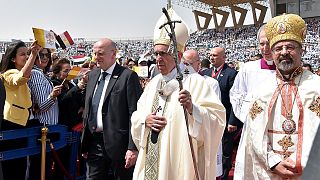 Pope Francis celebrated a mass at Cairo's Air Defence Stadium on Saturday under tight security, just three weeks after Islamist militants killed dozens in attacks on two Coptic Christian churches.
The only extremism believers can have is that of charity - any other extremism does not come from God
According to the Vatican, some 15,000 Egyptians gathered to welcome the Pope as he accused religious extremists of distorting God's merciful nature – and called on believers to unite against fanaticism.
"God is pleased only by a faith that's proclaimed by our lives, because the only extremism believers can have is that of charity! Any other extremism does not come from God and is not pleasing to him," he told the crowd.
May the Lord today grant us to set out together as pilgrims of communion and messengers of peace.

— Pope Francis (@Pontifex) April 28, 2017
The Pope also lamented the rise of "demagogic forms of populism", in a likely reference to far-right parties in Europe pushing anti-immigrant and anti-Muslim agendas.
The Pope's two-day trip aimed to rebuild ties with the Muslim world and show solidarity with the country's persecuted Coptic Christian minority.
Egypt's Christians comprise roughly 10 percent of the country's 92 million population — making them by far the largest Christian community in the Middle East. Most of Egypt's Christians are Coptic Orthodox, with barely 200,000 belonging to the Roman Catholic fold.
Meeting with Egyptian President Abdel Fattah al-Sisi on Friday, Pope Francis said the country played a key role in achieving peace in the Middle East.
Sisi, who declared a three-month state of emergency after the Palm Sunday church attacks, for his part called for more international cooperation to combat terrorism.
"Demagogic forms of populism are on the rise. These certainly do not help to consolidate peace and stability." https://t.co/kqUYgXrwTU

— The New York Times (@nytimes) April 29, 2017