Dozens feared detained after 'sick of Putin' protests
Comments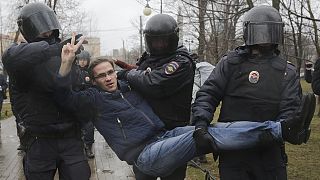 Hundreds gathered in Moscow and other Russian cities on Saturday, calling on President Vladimir Putin not to seek re-election next year.
Activists said at least 100 people were detained in Saint Petersburg. There was no official confirmation of the arrests.
Putin, who has dominated Russian politics for 17 years, has not said whether he will run in the March 2018 presidential elections. But the 64-year-old politician, who enjoys high popularity ratings, is widely expected to seek a fourth mandate.
Saturday's protest – under the slogan "We're sick of him" – was organised by the Open Russia movement founded by Putin's arch-rival, the former oil magnate Mikhail Khodorkovsky.
In Moscow, hundreds peacefully lined up outside the offices of his administration to hand over petitions calling on Putin not to run. Police said 250 people turned out, while Maria Baronova, an Open Russia activist, said at least 500 people handed over a petition.
A Reuters reporter counted at least 30 police buses and coaches around the rally, tightly guarded by riot police.
Now in #Moscow: protestors lining up to submit their letters to #Putin. Small turnout compared to pvs protests, very heavy police presence pic.twitter.com/FSnfurBywH

— Amie Ferris-Rotman (@Amie_FR) April 29, 2017
Under pressure
Authorities have stepped up pressure on Open Russia in recent days. The General Prosecutor's Office ruled on Wednesday that the activity of Open Russia's British arm was "undesirable" and accused it and other organisations of trying to discredit the election.
One of hundreds shepherded into a queue behind metal barriers by police before handing over their petitions one-by-one, Anna, a 16-year-old Moscow schoolgirl, said she hoped Putin would get the message and not run again.
"Nothing positive has happened in our country on his watch and I have the sense that things are getting worse, and that the main problem is the fact that those in power are the same," she told Reuters.
Her preference for president was opposition politician Alexei Navalny, who spent 15 days in jail last month after helping organise the biggest anti-government protests since 2012, which ended with over 1,000 arrests.
While the world watches Moscow for signs of unrest, hundreds of smaller protests are heating up Putin's heartland. https://t.co/NdDeG2j5NM

— Foreign Policy (@ForeignPolicy) April 29, 2017