'Terminator' Schwarzenegger signs green pact with Paris mayor
Comments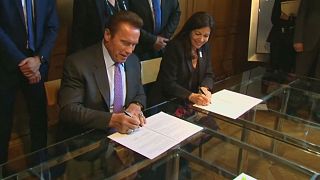 Former movie star, turned California governor, turned climate action campaigner, Arnold Schwarzenegger has signed a green pact with Paris mayor Anne Hidaglo.
The agreement, uniting the efforts of organisations they chair against climate change, aims to spark more action to cut greenhouse gas emissions among other things.
The mayor said it could mean the battle against pollution, and the energy transition, may become a reality.
Hidalgo is the president of the C40 Cities Climate Leadership Group that connects 90 of the world's mega-cities.
Schwarzenegger is the founder of the Regions of Climate Action NGO, a coalition of sub-national governments, private, state-run and charitable institutions.