Italy helps dismantle Berlin-based terror cell linked to market attacker
Comments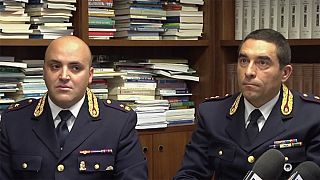 Italian police have revealed they helped Germany to dismantle a Berlin-based terror cell.
It had links with Anis Amri, the man who rammed a truck into a crowd at a Christmas market in the city.
The dismantling came after a probe, reportedly triggered by the arrest of two men at the Italian port of Ancona back in December.
Authorities believe Congolese Lutumba Nkanga and Soufiane Amri, from Morocco, had planned to go to Istanbul, with a view to joining ISIL in Iraq or Syria.
"There is a series of message exchanges in the chat rooms they used, showing that their purpose was to go to fight in Syria, even with the maximum personal sacrifice," said Antonio Bocelli, Head of DIGOS Police (General Investigations and Special Operations Division), Brindisi.
When asked if they were "ready to get blown up," Bocelli said "very likely yes."
Twelve people were killed in December's market attack in Berlin.
Twenty-four-year old driver Anis Amri was killed in a shootout with Italian police near Milan a few days later. He is said to have travelled there from Germany via France.
Amri had escaped expulsion twice in 18 months because of bureaucratic loopholes.