Facing West: Montenegro's parliament ratifies NATO membership
Comments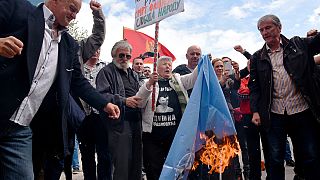 There had been protests, but Montenegro's parliament has ratified the country's membership in NATO.
The historic turn toward the West takes the tiny former Yugoslav republic a step closer to being the 29th member of the military alliance.
Outside the parliament, where 46 of 81 deputies voted in favour of the agreement, several hundred anti-NATO supporters burned the NATO flag and demanded a referendum on membership.
All but two of the NATO allies have now ratified the accord. It is fiercely opposed by Russia, which has strong historic and cultural ties to Montenegro.
"I think that Montenegro has to make its way in the world independently and I think it is better if Montenegro is a NATO member," said Srdja Sekulic, a local resident.
"It's going to be safer, but I'm not sure whether life in general will be better."
Montenegro, which hopes to formally join NATO at a summit next month, has a small military of around 2,000 troops.
But its strategic position gives NATO full control over the Adriatic Sea.
The other Adriatic nations – Albania, Croatia and Italy – are already in the alliance.