Mexico's missing students: marking 31 months since they vanished without trace
Comments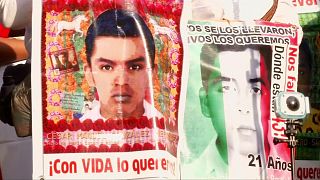 Relatives and friends of 43 missing students marched through the centre of Mexico City to mark 31 months since they disappeared.
The families, supported by activists, have been highly critical of the government's handling of the case.
They are demanding justice for their loved ones.
What happened to the students?
Their exact fate is unknown.
Dozens of arrests have been made since the group of 43 student teachers was seized by police in the southern city of Iguala on September 26, 2014.
They were reportedly turned over to an organised crime group.
What do the families think happened to the students?
Parents and the lawyers representing them have criticised the government.
They think the investigations are progressing slowly and have not delved into the role that the Army may have played in the disappearances.
Some believe their missing children are still alive and are being held in clandestine detention centres.
Still No Justice for Mexico's Missing Students, The NYT (03/2017)https://t.co/KKgMnqS20R

— Academic Lounge (@AcademicLounge) 22 avril 2017
What do the authorities say?
Earlier this week the Inter-American Commission on Human Rights (IACHR) reported that Mexico's investigations into the disappearance has stalled.
The Attorney General's office (PGR) says it has initiated fresh searches and has followed the recommendations of a group of international experts that followed the case up until April last year.
However, there are still no relevant results.
What did the experts say?
They have rejected the prosecution's initial version that the group was killed and their remains burned at a rubbish dump in the town of Cocula near Iguala.
They have accused the prosecutor of manipulating evidence.
What has the prosecutor said?
The initial prosecutor has resigned.
The current prosecutor says different hypotheses are being investigated.