US moves anti-missile system to South Korea amid tensions with North
Comments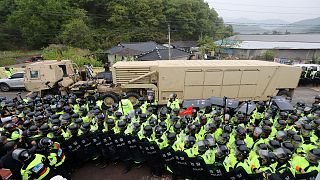 The US military has started moving parts of the controversial THAAD anti-missile defence system to a deployment site in South Korea.
It comes amid heightened tensions over North Korea's missile and nuclear programmes.
China – Pyongyang's sole ally – is angry about the anti-missile system, saying it will do little to deter the North.
Washington and Pyongyang have been ratcheting up pressure on each other of late.
America has sent an aircraft carrier group and nuclear submarine to the region, while North Korea has been attempting more missile launches – defying UN sanctions.
Pyongyang said on Wednesday that its leader Kim Jong Un had supervised the country's "largest ever" live-fire drill to mark the 85th founding anniversary of the military.
This, instead of a feared nuclear test or launch of a long-range missile, amid pressure from the US and China.
North Korea is defiant though, saying its military is prepared to "bring to closure the history of US scheming and nuclear blackmail."
On Monday, Trump called North Korea a global threat and "a problem that we have to finally solve." He added that the UN Security Council must be prepared to impose new sanctions.
America's Secretary of State, Rex Tillerson, is expected to brief the full US House of Representatives on the situation on Wednesday.
---
Discover euronews quotes and opinions about South Korea to get all views