Ten arrested in probe of 2015 Paris deli attack
Comments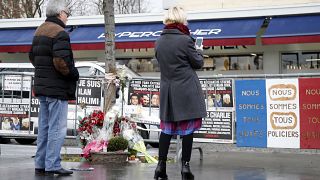 Who supplied weapons to Amedy Coulibaly – the militant who staged a deadly attack on a Jewish deli in Paris in January 2015 after pledging allegiance to ISIL?
French police are said to have questioned 10 people as part of the probe since Monday. Investigators are looking at possible links between the attack and people in Belgium, several media reported on Wednesday.
According to BFM TV channel the arrests were carried out in both France and Belgium, and those arrested are known to have ties to far-right movements.
On January 9, 2015, two days after the Kouachi brothers decimated the newsroom of satirical weekly Charlie Hebdo, Amedy Coulibaly staged his attack on a kosher supermarket in eastern Paris
There, he planted explosives and held customers hostage. He killed four of them, all Jewish, before he was himself killed in a dramatic police siege. The Kouachi brothers – whom Coulibaly knew and had conspired with – were also killed after they took refuge in a print works.
Shortly after the attacks, Belgian authorities detained one person for arms dealing and said they were investigating whether he had supplied Coulibaly with weapons.
French police arrest ten suspects 'for arming Paris terrorists' https://t.co/Ele4QMmWIkpic.twitter.com/MrHnO2UpMG

— The Local France (@TheLocalFrance) April 26, 2017