May and Corbyn clash over Brexit in final PMQ session
Comments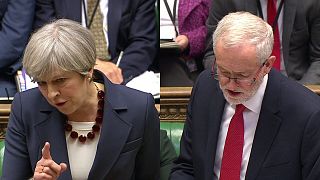 British Prime Minister Theresa May and Labour leader Jeremy Corbyn have clashed in the final prime ministers questions ahead of the snap UK election on June 8.
Unsurprisingly, Brexit and the economy dominated the session as well as domestic policy promises.
May attacked Corbyn's leadership record: "Every vote for him is a vote for a chaotic Brexit. Every vote for him is a vote for a coalition of chaos – a weak leader propped up by the Liberal Democrats and the Scottish Nationalists."
The Labour leader responded by accusing the prime minister of only representing the interests of the rich.
"When it comes to the prime minister and the Conservatives, they only look after the richest not the rest. They are strong against the weak and weak against the strong," said Corbyn.
According to an Ipsos Mori poll published on Wednesday (26 April) the Conservatives have stretched their lead over Labour and now have 49 percent support, that equates to the margin held by Margaret Thatcher in 1983 when she secured a landslide victory.