Erdogan slams Council of Europe decision to put Turkey on watchlist
Comments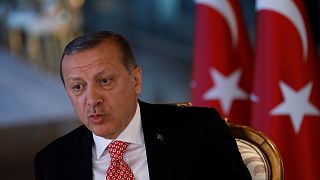 It's "entirely political" and we reject it. That from Turkey's president after the Parliamentary Assembly of the Council of Europe, a leading human rights organisation, decided to put the country on a watch list.
Recep Tayyip Erdogan also says Ankara will reconsider its position on joining the EU if it's kept waiting, and some member states remain hostile.
"With the latest developments, some are talking back and forth, saying the European Union will stop negotiations with Turkey and so on," said Erdogan.
"If this understanding, if this mentality is real, then, of course, what will we do? We will revise the situation."
The Council of Europe decision is over the crackdown on dissent in the wake of last year's coup attempt in Turkey. Also rights violations and concerns about Erdogan's increased grip on power. Ankara says it smacks of Islamophobia and is a "disgrace."
The Council is separate from the EU, but the move is set to be a further blow to Turkey's bid to join the bloc.
Ankara's relations with the EU dived even further during its recent referendum campaign.
During it, Erdogan accused Germany and the Netherlands of acting like Nazis by banning Turkish political rallies.