Young 'Macronistas' hope for new era in politics
Comments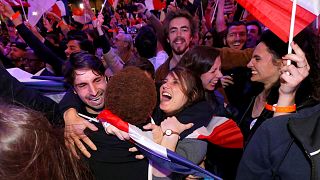 A victory they'd hoped for so badly: The youthful supporters of Emmanuel Macron were thrilled to see their centrist and pro-European candidate leading the pack for France's top job.
They now hope the broader electorate will embrace Macron's pledge to break from decades of polarised politics.
"Today we've been heard, and it feels great. I hope in two weeks we'll convince people with our programme, not just by default, and that they'll realise Macron is really a chance for France, and for Europe," one supporter told Euronews.
"I'm not a member of 'En Marche' and yet I really feel hopeful, that's why I came here tonight, to share this hope and this desire to see our country finally become united again around one person, beyond the usual left-right divide," said another.
If Macron wins on May 7, his young En Marche (Onwards!) movement will face a major challenge: securing a majority in parliament in June – no easy feat given how deeply divided the nation proved in Sunday's vote.